I have had lots of success lately with mini pots of panacotta on my dessert tables.  They are super easy to make and taste delicious.  They have been really popular with both adults and the kids.
My recipe is one that my lovely friend Jacki from
Blissfully Sweet Cakes
gave me – Jacki has some wonderful and simple recipe's up her sleeve so go forth and make this easy panacotta for your next party  (or just to eat when you feel like!) – the Balsamic Strawberries garnish recipe is also included below.
Vanilla Pannacotta
1 1/2 cups (375ml) cream
1 1/2 cups (375ml) milk
1 vanilla bean
1/2 cup (115g) caster sugar
3 tsp gelatine powder
1. Place the cream and milk in a saucepan.  Use a small sharp knife to split the vanilla bean lengthways, then scrape the seeds from inside the bean.  Add the seeds and bean to the saucepan.  Slowly bring to the boil over a medium heat.  Remove from the heat and set aside for 10 minutes.
2. Discard bean from cream mixture.  Add sugar and return to a a low heat.  Cook, stirring, for 5 minutes or until sugar dissolves.
3. Place 2tbs of boiling water in a small heatproof bowl.  Sprinkle over gelatine and stir until dissolved.  Cool slightly, then stir into the cream mixture.
4. Sieve mixture and then pour directly into serving pots.  Refrigerate for at least an hour or overnight.
Balsamic Strawberries for garnish
1 tub of fresh strawberries cut in half (or quarter if large)
2 tbs aged balsamic vinegar (can use normal balsamic, but the thick balsamic glass or syrup is great)
50g white sugar
1/4 cup water
1. Cut strawberries and place in a saucepan and combine with the sugar and water.
2. Place over a low heat and simmer until the sauce thickens but the strawberries are still holding their shape (the should be soft but not mushy).
3. Add in the balsamic vinegar, then taste for correct acid/sweet level.  Refrigerate until ready for serving.  Can be done a day ahead
To serve top the pannacotta cups with some strawberries and syrup
Enjoy!
Don't forget you can find those cute little pots in the Sweet Style store
here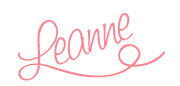 Need more inspiration? Check out these posts: